With our own in-house tissue production we offer a high degree of flexibility. Besides the usual tissue qualities for white products, we produce about 19 different tissue colours on our paper machine.
The flexibility on the paper machine also allows us to develop new specifications. Over the past few months, we have managed to develop tissue for toilet paper and a moisture-resistant tissue for hygienic face masks in a very short time.
We produce white and coloured tissue on our paper machine throughout the year in the most common format ranges available on the market:
24 x 24 cm, 33 x 33 cm, 36 x 36 cm and 40 x 40 cm, 1 – 3 ply
Our production facilities are certified according to the environmental and quality management systems ISO 14001 and ISO 9001.
In the field of energy management we are certified according to ISO 50001. This certification underlines our continuous efforts to make a significant contribution to environmental and climate protection.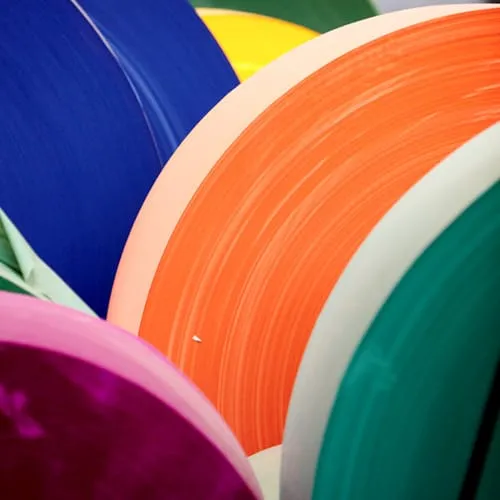 1
Tissue type: white and coloured tissue
3
19 different basepaper colours
Tissue Production
1 paper machine
Tissue type: white and coloured tissue
Sizes: 24 x 24 cm, 33 x 33cm, 36 x 36 cm, 40 x 40 cm
Ply: 1 – 3 ply
Colours: 19 different basepaper colours
Our PEFC certified Uni products set standards in terms of colour, quality and product variety.
They consist of 100% chlorine-free bleached pulp. Our colour range comprises 19 colours, which are geared to trends and market requirements. They are available in different formats, plies and packaging options.
Plain colour napkin production
Various production machines
Sizes: 24 x 24 cm, 33 x 33 cm,
36 x 36 cm, 40 x 40 cm
Ply: 1 – 3 ply
Quantities: 20 pieces per pack up to 250 pieces per pack
Our colour palette for 2020
Our FSC® and with the Nordic EU Ecolabel certified printed napkins impress with print quality at the highest level. Based on trends, consumer and market insights, we develop collections of prited napkins which are individually tailored to our customers and available in a wide variety of formats, plies and packaging options.
Colour and design trends are developed in-house at keeeper tableware. Our creative department visits international trend fairs, maintains contacts with trend agencies and uses important market information and consumer insights.
Based on this information, we develop the colour and design trends tailored to our customers and products one year in advance and integrate them into the annual collections and individual product ranges.
Repro and production – everything from one source
Every machine has its own print profile. To get the best print quality out of our machines, we produce the repro data in-house with the latest technologies and laser the colour separations on our in-house laser engraving system.
Themed napkin production
Various production machines
1 laser engraving machine
Sizes: 24 x 24 cm, 33 x 33 cm,
40 x 40 cm
Ply: 2 and 3 ply,
Colours: prints up to 8 colours
Packaging options: 20 pieces per pack up to 250 pieces per pack
With us, the journey from the idea to the delivered product is easy. With everything under one umbrella, we provide total flexibility with a focus on our customers.
In addition to our standard tissue products we offer with our DecoSoft® quality a premium alternative for beautiful table settings.
DecoSoft® consists of 100% tissue and therefore offers special softness as well as high stability and absorbency. Due to the full-surface embossing used, the product impresses with a pleasant feel and increased thickness.
Both as a plain napkin and in combination with modern, festive designs, the elegant DecoSoft® material with its feel and look of real linen is the softer alternative to the regular Airlaid napkin.
DecoSoft® is an eye-catcher, distinguishes itself from regular business and creates an elegant atmosphere.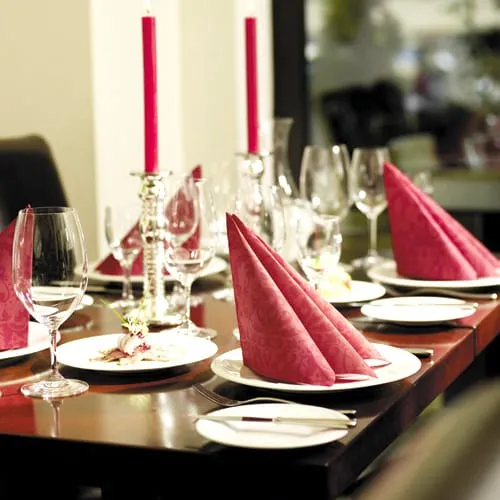 1
Soft, pleasant feel on the skin
2
Absorbent through tip-to-tip micro-embossing
3
Decorative and dimensionally stable
With our semi-automatic sorting line, we offer an enormous flexibility for our customers. With this system we can assemble various products into the most diverse cardboard boxes and react very quickly to customer requirements.
Our in-house packaging is even more flexible. This enables us to react quickly and professionally to customer wishes with regard to product requirements in the field of promotional products.
We also have strong professional partners at our side for the external packaging of our customers' promotional products.
We offer:
From banderole products and highly complex display solutions to fully automatically filled cartons – a broad product portfolio for a strong presence at the POS.
Up to 8 different products in different formats can be sorted on our fully automatic sorting line.
Our environment is important to us – we continuously develop our sustainable products and make our daily contribution to a better world.